Urushiol (Biology)
From The Encyclopedia of Earth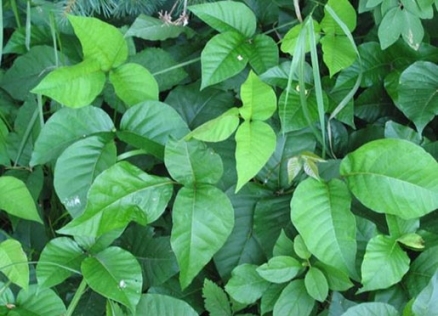 Urushiol
November 20, 2011, 12:00 am
Introduction
Urushiol is an oily toxin produced by plants in the cashew family (anacardiaceae). These plants include poison ivy, poison oak, and poison sumac, and also mango, cashew, and kareetrees. In the United States, urushiol exposure and its effects are most commonly thought of as resulting from poison ivy, poison oak, and poison sumac. Repeated contact with these three plants causes humans to have an increased sensitivity to all members of the anacardiaceae family with each subsequentexposure. Urushiol exposure is non-lethal in most situations although in rare cases may lead to death caused by systemic poisoning. Increasing atmospheric (Earth's atmosphere) CO2 (Carbon dioxide)is enabling poison ivy (and generally most other land plants including other cashew family plants) to thrive, and the result is that these plants are producing a more toxic form of urushiol at higher rates.[1</sup></sup>] The potential impact this increase will have on humans, population sensitivity rates, and changes in effects is at present unknown.
History
The word urushiol dates back to the early 1900s. It comes from the Japanese word urushi, meaning lacquer. Although there are references to the plant dating back to the 7th century AD, the word poison ivy was not used until about 1785. Some Native American tribes used the plants of the anacardiaceae family for medicinal purposes, but it can be inferred from the descriptive names which they used to describethem thatthey werenot plants that they revered. Some examples of these are "stick that makes you sore", a name equivalent to "bad sex", and "southern fire doctor". Europeans discovered poison ivy when they first came to the Americas, and brought it back to with them to Europe as an ornamental. Poison ivy, oak, and sumacgrow in a wide variety of biomes andsome haveseveral forms of appearances thatthey take depending on species, climate, and community. Poison ivy currently exists in Europe today despite that it's a non-native species and the susceptibility of many Europeans to its painful effects, because of its changing morphology, it was well suited for decorative purposes.
The treatment for the exposure to urushiol is as varied as the plants themselves. Curiously, both the Chinese and Native Americans treated exposure to urushiol by rubbing crab or crayfish meat on the affected area -- long before any resemblance of modern medicine or chemistry existed[2</sup></sup>]. Anderson also wrote that as far as he knew no present day research has been done on the effects of the crustaceans on urushiol, although the ancient Chinese had discovered that some property found in the animals stopped polymerizing. Folk cures for the treatment of contact dermatitis due to urushiol include rubbing the infected area with plantain or banana juices, detergents, gasoline, oil, shoe polish, marshmallows, and just about anything else lying around the house. More recent medical treatment often involves hormones or steroid therapy.
Mechanism of action
Urushiol is a transparent, non volatile olioresin which turns into a brownish lacquer when oxidized; the non-volatile nature of urushiol allows it to adhere to objects such as skin, clothes, gloves and animal fur.
Urushiol is a mixture of catechols derivatives which have long hydrophobic organic side chains on the carbon 3 position (catechols consist of a 1, 2 di hydroxy benzene ring and are also known as a diphenols). The chemical composition of urushiol may vary in different species, depending on the length of the alkyl (R) group attached to the catechol, in poison ivy this is a fifteen carbon side chain. The severity of the allergic response to urushiol changes depending on the length and level of unsaturation of the side chain – a longer and more unsaturated alkyl group instigates the most severe response.
Urushiol can be inhaled, ingested and absorbed through the skin, its responses may vary depending on the route of expsoure. The thickness, sensitivity and hairiness of the skin will also influence the intensity of our body's reaction. The allergic reaction displayed in people is a cell-mediated immune response, meaning there is a delay between exposure and visible irritation. Urushiol is a pro –electrophillic antigen-presenting molecule. When skin is exposed to urushiol, a covalent protein/urushiol complex forms, as a result of electrophillic attack on the ammino acids of the protein (the nucleophile). The Urushiol is then converted into a reactive quinone (oxidized form of a catechol). This reactive quinone binds to the Langerhan's cells in the epidermis which interact with T lymphocytes (CD8), an immune cell which then sets of the immune cascade – resulting in the allergic contact dermatitis or ACD response.
Sensitization
An estimated 50%-70% of the US adult population is sensitized to urushiol. Poison ivy, poison oak, or poison sumac contain similar types of urushiol, and a person already sensitized to one is likely to have an allergic reaction to the others.
The time between exposure and the onset of ACD ranges from 24 hours to 15 days in extreme cases. Someone already sensitized to urushiol will usually experience a reaction within a 24-48 hour window of time. Toxicodendron dermatitis cell-mediated immune responses that destroy the epidermal layer can be identified by the appearances of erythema, papular lesions, pruritus, vesiculation, blisters, and edema. Severity of an individual's reaction is dictated in part by exposure history, site of exposure, and amount of urushiol.
External vs. internal
Allergic contact dermatitis (ACD) usually occurs following external contact, but occasionally urushiol allergen is ingested and triggers systemic contact dermatitis (SCD).
An example of ACD that surprises many people is the occurrence of "mango mouth," when someone eats a mango and then develops a red rash around their mouth. People already sensitized to poison ivy, poison oak, or poison sumac can display mango dermatitis after their first contact. In Israel, a group of American tourists from Northern America engaged in mango picking and all 17 of them developed rashes. The three patients who had no prior exposure to urushiol experienced milder outbreaks. None of the 15 Israelis, showed any presence of mango dermatitis. Mangos only grow in a few areas of Israel, and many Israelis first come into contact with urushiol through ingestion, possibly creating immunological tolerance in the gut[1].
An example of SCD can be found in the use of lacquer tree sap Rhus toxicodendron. In certain parts of Korea, ingesting the sap of the lacquer trees boiled extract is used as a folk medicine to treat gastrointestinal disorders. Kyunghee's University Hospital Department of Dermatology undertook a study from 1995-2001 and tracked 42 patients SCD actively ingesting Rhus. 14 of the 42 patients had a prior Rhus allergy. 24-48 hours after all patients had ingested Rhus showed various erythemal eruptions, blisters, and lesions. T lymphocytes of people who had a prior history, and those who did not, were analyzed and no immunologic discrepancies were found.
Timing, treatments and misconceptions
Poison ivy, poison oak, and poison sumac can cause an allergic reaction year-round, even if stems and roots are touched during winter. Pets, shoes, clothing, and tools can all transfer urushiol to an unsuspecting individual. When a person has an allergic reaction, the pus-filled areas of the rash do not spread the rash to other areas of the epidermal layer. Urushiol can be removed using water however, soaps containing oils should be avoided because they will spread the urushiol. Anything believed to have come into contact with urushiol should be washed immediately. A selection of some availableurushiol dermatitistreatments are listed below.
Tecnu
Goop
Dial ultra dishwashing soap
Zanfel
| | |
| --- | --- |
| Time (minutes) | % Urushiol Removal |
| 10 | 50% |
| 15 | 25% |
| 30 | 10% |
| >30 | 0% |
(Adapted from Gladman, 2006).
An ACD or SCD reaction to urushiol occurs following direct contact, ingestion or inhalation of soot contaminated with urushiol (if poison ivy or poison oak plants are burned).
Evolution
carbon dioxide
(CO2). In addition to the increase in
biomass
, the poison ivy allocated more energy towards the production of urushiol than in environments with less CO2. The urushiol had a higher ratio of unsaturated to saturated alkyl side chains. As CO2 levels in the atmosphere increase, poison ivy is evolving in unexpected ways.
[2]
Global implications for other members of the anacardiaceae family in response to the rising CO2 levels are as yet unknown but could possibly have severe effects.
This article was researched and written by students at Mount Holyoke College participating in the Encyclopedia of Earth's (EoE)Student Science Communication Project. All articles have been reviewed and approved by EOE editors, and in many cases individual experts in the appropriate fields.
Literature cited
Anderson, Thomas E.. 1995. Poison ivy, oak, and sumac book: A short history and cautionary account. Acton Circle. Ukiah, CA.
Barceloux Donald G. "Allergic Phytodermatitus." Medical Toxicology of Natural Substances: Foods, Fungi, Medicinal Herbs, Plants and Venomous Animals. New Jersey: Wiley, 2008. 680-682.
Epstein, W.L. Contact-type delayed hypersensitivity in infants and children: Introduction of rhus sensitivity. Pediatrics. 1961: 27: 51-53.
Gladman A.C. Toxicodendron Dermatitis: Poison Ivy, Oak, and Sumac. Wilderness and Environmental Medicine. 2006: 17: 120-128.
Guin, J.D. MD, FACP. 2005. Treatment of Toxicodendron Dermatitis (Poison Ivy And Poison Oak).
Hershko K., Weinberg I., and Ingber A. 2005. Exploring the mango-poison ivy connection: the riddle of discriminative plant dermatitis. Contact Dermatitis 52: 3-5. Denmark.
Kalergis Alexis M., Carolina B. Lopez, Maria I. Becker, Marisol I Diaz, Jorge Sein, Juan A. Garbarino, Alfredo E. De Ionnes. "Modulation of Fatty Acid Oxidation Alters Hypersensitivity to Urushiols: Role of Aliphatic Chain Beta Oxidation in Processing and Activation of Urushiols." The Journal of Investigative Dermatology 108.1 (1997): 57.
Kligman A. Poison ivy (Rhus) dermatitis. Am Med Assoc Arch Dermatol 1958: 77: 149-180.
Kolata, Gina. 1988. Health: Dermatology; with poison ivy, timing is everything. New York Times. New York, NY.
Kwangsukstich C, Maibach H.I. Effect of age and sex on the induction and elicitation of allergic contact dermatitis. Contact dermatitis. 1995: 33: 289-298.
Lejman E., Stoudemayer T., Grove G., and Kligman A.M. Age differences in poison ivy dermatitis. Contact Dermatitis. 1984: 11: 163-167.
Martz, Eric. "Poison Ivy: An Exaggerated Immune Response to Nothing Munch." March 31st 1997 1997.
Mitich, Larry W.. 1995. Intriguing world of weeds: poison-ivy/poison-oak/posion-sumac- the virulent weeds. Weed Technology 9 (3) 653-656. Weed Science Society of America (WSSA online).
Mohan, Jacqueline E., Lewis H. Ziska, William H. Schlesinger, Richard B. Thomas, Richard C. Sicher, Kate George, and James, S. Clark. 2006. Biomass and toxicity responses of poison ivy (toxicodendron radicans) to elevated atmospheric CO2. National Academy of Sciences of the USA.
Oh, S.H., Haw C.R., and Lee M.H. Clinical and immunologic features of systemic contact dermatitis from ingestion of Rhus (Toxicodendron). Contact Dermatitis. 2003: 48: 251- 254.
Pavek, Diane S. 1992. Toxicodendron radicans. In: Fire Effects Information System, (online). U.S. Department of Agriculture, Forest Service, Rocky Mountain Research Station, Fire Sciences Laboratory. (2011, September 30).
"Poison ivy". Encyclopædia Britannica Online Academic Edition. Encyclopædia Britannica, 2011. Web. 17 Oct. 2011.
Willams, J.V., Light J., and Marks J.G. Individual variations in allergic contact dermatitis from urushiol. Arch Dermatol. 1999: 135: 1002-1003.
Williford, P. and Sheretz E. Poison ivy dermatitis. Archives of Family Medicine. 1994: 3: 184-188.
Wilson, Stephanie. "How Poison Ivy Works" 23 September 2005. HowStuffWorks.com. 17October 2011.
'This article was researched and written by students at Mount Holyoke College participating in the Encyclopedia of Earth's (EoE)Student Science Communication Project. The project encourages students in undergraduate and graduate programs to write about timely scientific issues under close faculty guidance. All articles have been reviewed and approved by EOE editors, and in many cases individual experts in the appropriate fields.'