Croatia
From The Encyclopedia of Earth
Countries of the world (main)
September 29, 2015, 5:08 pm
Source: CIA World factbook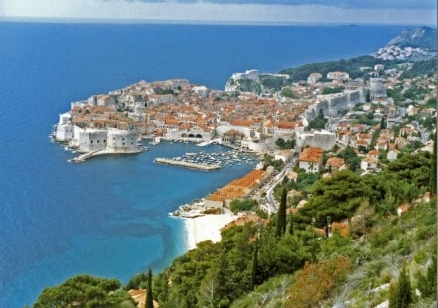 Dubrovnik
Countries and Regions of the World Collection

Croatia is a nation of nearly four-and-a-half million people in southeastern Europe, bordering the Adriatic Sea, between Bosnia and Herzegovina and Slovenia.
Its major environmental issues include:
Air pollution (from metallurgical plants) and the resulting acid rain is damaging the forests;
Coastal water pollution from industrial and domestic waste; and
Landmine presence and reconstruction of infrastructure consequent to 1992-95 civil strife.
Croatia is susceptible to destructive seismic events.
Lands that today comprise Croatia were part of the Austro-Hungarian Empire until the close of World War I.
In 1918, the Croats, Serbs, and Slovenes formed a kingdom known after 1929 as Yugoslavia.
Following World War II, Yugoslavia became a federal independent Communist state under the strong hand of Marshal Tito.
Although Croatia declared its independence from Yugoslavia in 1991, it took four years of sporadic, but often bitter, fighting before occupying Serb armies were mostly cleared from Croatian lands. Under UN supervision, the last Serb-held enclave in eastern Slavonia was returned to Croatia in 1998.
In April 2009, Croatia joined NATO; Croatia signed the European Union Accession Treaty in December 2011 and ratified the Treaty in January, 2012. Croatia will become a member after all 27 EU members ratify the treaty, with a target date of July 2013.
Croatia controls most land routes from Western Europe to Aegean Sea and Turkish Straits; most Adriatic Sea islands lie off the coast of Croatia - some 1,200 islands, islets, ridges, and rocks
A dispute remains with Bosnia and Herzegovina over several small sections of the boundary related to maritime access that hinders ratification of the 1999 border agreement.
The Croatia-Slovenia land and maritime boundary agreement, which would have ceded most of Pirin Bay and maritime access to Slovenia and several villages to Croatia, remains unratified and in dispute. Slovenia also protests Croatia's 2003 claim to an exclusive economic zone in the Adriatic. As a European Union peripheral state, Slovenia imposed a hard border Schengen regime with non-member Croatia in December 2007.
Geography
Croatia serves as a gateway to Eastern Europe. It lies along the east coast of the Adriatic Sea and shares a border with Serbia, Montenegro, Bosnia and Herzegovina, Hungary, and Slovenia. The country has a distinct boomerang shape, arching from the Pannonian Plains of Slavonia between the Sava, Drava, and Danube Rivers, across hilly, central Croatia to the Istrian Peninsula, then south through Dalmatia along the rugged Adriatic coast. Croatia is made up of 20 counties plus the city of Zagreb and controls 1,185 islands in the Adriatic Sea, 67 of which are inhabited.
Location: Southeastern Europe, bordering the Adriatic Sea, between Bosnia and Herzegovina and Slovenia
Geographic Coordinates: 45 10 N, 15 30 E
Area: 56,594 sq km(land: 55,974 sq km; water: 620 sq km)
Land Boundaries: 1,982 km (Bosnia and Herzegovina 932 km, Hungary 329 km, Serbia 241 km, Montenegro 25 km, Slovenia 455 km)
Coastline: 5,835 km (mainland 1,777 km, islands 4,058 km)
Maritime Claims:
territorial sea: 12 nm
continental shelf: 200 m depth or to the depth of exploitation
Natural Hazards: Destructive earthquakes
Terrain: Topography is geographically diverse; flat plains along Hungarian border, low mountains and highlands near Adriatic coastline and islands. The highest point is Dinara (1,831 m).
Climate: Mediterranean and continental; continental climate predominant with hot summers and cold winters; mild winters, dry summers along coast.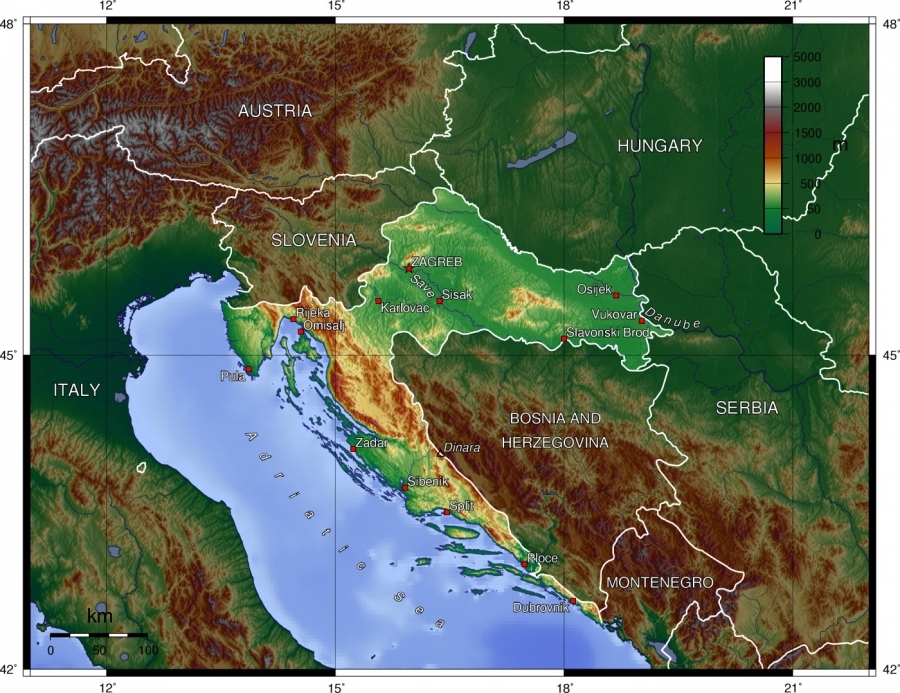 Topography of Croatia. Source: Creative Commons
Ecology and biodiversity
See:

1. Pannonian Mixed Forests(lime) cover the depression surrounded by the Carpathian Mountains, Alps, and Dinaric Mountains.

2. Dinaric Mountains mixed forests (yellow) encompass the northwest-southeast Balkan mountain ranges, from the eastern Alps to the northern Albania massifs.

3. Illyrian deciduous forests (orange) extend all along the coastal ranges of the Eastern Adriatic coast, from the eastern Alps to the northern Ionian coast between Albania and Greece.

4. Tyrrhenian-Adriatic sclerophyllous and mixed forests (reddish) extend along the coastal lowlands of the southern half of the Italian Peninsula, Sicily, and Corsica. They include Sardinian Island and the Dalmatian Islands of Croatia.

Ecoregions of Croatia. Source: World Wildlife Fund.
See also:
People and Society
Population: 4,480,043 (July 2012 est.)
Ethnic groups: Croat 89.6%, Serb 4.5%, other 5.9% (including Bosniak, Hungarian, Slovene, Czech, and Roma) (2001 census)
Age Structure:
0-14 years: 15.1% (male 346,553/female 328,677)
15-64 years: 68.1% (male 1,516,884/female 1,536,065)
65 years and over: 16.9% (male 296,268/female 459,357) (2011 est.)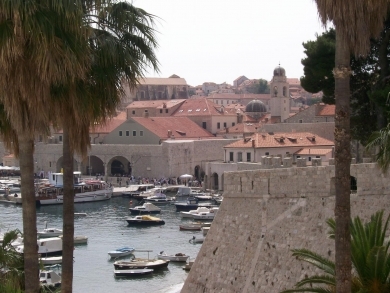 Dubrovnik harbor from outside of the city.. The beautiful walled city of Dubrovnik on the Adriatic Sea. During the Middle Ages this maritime city-state (then called Ragusa) rivaled Venice for supremacy in the Adriatic. In 1979, the city became a UNESCO World Heritage Site.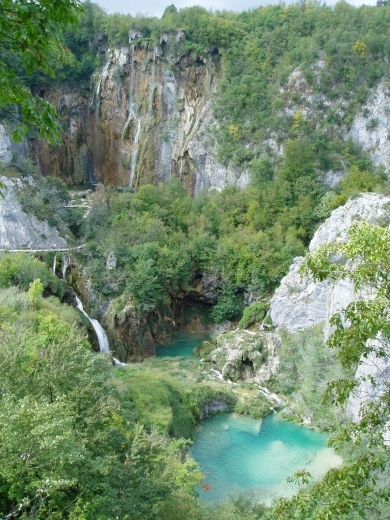 A view in Plitvice Lakes National Park looking down into the gorge where the largest waterfalls in the park are located. The park is a favorite tourist destination and consists of 16 lakes separated by natural dams.
Statue of King Tomislav in his eponymous square in Zagreb. Tomislav reigned from 910 to 928, first as the Duke of Dalmatia and then as the first King of Croatia.
This view features the Dalmatian coastline of Croatia around the city of Split. Much of the region can be characterized by northwest-southeast oriented linear islands and embayments of the Adriatic Sea. This distinctive coastal geomorphology is the result of faulting caused by tectonic activity in the region and sea level rise. Photo courtesy of NASA.
Population Growth Rate: -0.092% (2012 est.)
Birthrate: 9.57 births/1,000 population (2012 est.)
Death Rate: 11.99 deaths/1,000 population (July 2012 est.)
Net Migration Rate: 1.51 migrant(s)/1,000 population (2012 est.)
Life Expectancy at Birth: 75.99 years
male: 72.38 years
female: 79.8 years (2012 est.)
Total Fertility Rate: 1.44 children born/woman (2012 est.)
Languages: Croatian (official) 96.1%, Serbian 1%, other and undesignated (including Italian, Hungarian, Czech, Slovak, and German) 2.9% (2001 census)
Literacy: (age 15 and over can read and write): 98.1% (2001 census)
Urbanization: 58% of total population (2010) growing at an annual rate of change of 0.4% (2010-15 est.)
History
The Croats are believed to be a Slavic people who migrated from Ukraine and settled in present-day Croatia during the 6th century. After a period of self-rule and the establishment of an independent kingdom, Croatians agreed to the Pacta Conventa in 1091, submitting themselves to Hungarian authority. By the mid-1400s, concerns over Ottoman expansion led the Croatian Assembly to invite the Habsburgs, under Archduke Ferdinand, to assume control over Croatia. Habsburg rule proved successful in thwarting the Ottomans, and by the 18th century, much of Croatia was free of Turkish control. The Austrian monarchy also acquired control over Dalmatia at the close of the Napoleonic wars following centuries of rule by the Venetian Republic.

In 1868, Croatia gained domestic autonomy under Hungarian authority. Following World War I and the demise of the Austro-Hungarian Empire, Croatia joined the Kingdom of Serbs, Croats, and Slovenes (the Kingdom of Serbs, Croats, and Slovenes became Yugoslavia in 1929). During World War II, German and Italian troops invaded and occupied Yugoslavia and set up a puppet, Fascist regime to rule a nominally-independent Croatian state. This regime, under the hard-line nationalist Croatian Ustasha party, was responsible for the deaths of large numbers of ethnic Serbs, Jews, Roma, and other civilians in a network of concentration camps. It was eventually defeated by the Partisans, led by Josip Broz Tito, in what was essentially a civil war as well as a struggle against the Axis occupiers. The pro-Yugoslav Partisans included many ethnic groups, including a large number of Croatians, and were supplied in large part by the United States and the United Kingdom. Yugoslavia changed its name once again after World War II. The new state became the Federal Socialist Republic of Yugoslavia and united Croatia and several other republics together under the communist leadership of Marshal Tito.

After the death of Tito and with the fall of communism throughout Eastern Europe, the Yugoslav federation began to unravel. Croatia held its first multi-party elections since World War II in 1990. Long-time Croatian nationalist Franjo Tudjman was elected President, and 1 year later, Croatia declared independence from Yugoslavia. Conflict between Serbs and Croats in Croatia escalated, and 1 month after Croatia declared independence, the Yugoslav Army intervened and war erupted.

The United Nations mediated a cease-fire in January 1992, but hostilities resumed the next year when Croatia fought to regain one-third of the territory lost the previous year. A second cease-fire was enacted in May 1993, followed by a joint declaration the next January between Croatia and Yugoslavia. However, in September 1993, the Croatian Army led an offensive against the Serb-held self-styled "Republic of Krajina." A third cease-fire was called in March 1994, but it, too, was broken in May and August 1995, after which Croatian forces regained large portions of the Krajina, prompting an exodus of Serbs from this area. In November 1995, Croatia agreed to peacefully reintegrate Eastern Slavonia, Baranja, and Western Sirmium under terms of the Erdut Agreement, and the Croatian government re-established political and legal authority over those territories in January 1998. In December 1995, Croatia signed the Dayton peace agreement, committing itself to a permanent cease-fire and the return of all refugees.

The death of President Tudjman in December 1999, followed by the election of a coalition government and President Stjepan Mesic in early 2000, brought significant changes to Croatia. The government, under the leadership of Prime Minister Ivica Racan, progressed in implementation of the Dayton Peace Accords, regional cooperation, refugee returns, national reconciliation, and democratization.

National parliamentary elections held in November 2003 brought back into power the Croatian Democratic Union party (HDZ), which had governed Croatia from independence until 2000. The HDZ government, headed by Prime Minister Ivo Sanader, was narrowly re-elected in a November 2007 ballot. The Sanader government's priorities included membership for Croatia in the European Union (EU) and the North Atlantic Treaty Organization (NATO); Croatia joined NATO in April 2009. In July 2009, Prime Minister Sanader unexpectedly resigned, and Deputy Prime Minister Jadranka Kosor took over as Croatia's first female Prime Minister. While in office, Prime Minister Kosor focused on tackling corruption at home, while pushing to overcome the last remaining hurdles to Croatia's EU accession. In January 2010, Ivo Josipovic won the final round of presidential elections to replace two-term President Mesic. In December 2010, former Prime Minister Sanader fled the country in the face of a corruption investigation and was arrested in Austria. In July 2011, Sanader was extradited to Croatia, where he remained in custody until December 2011. Sanader's trial on multiple corruption-related charges continued as of March 2012. President Josipovic and Prime Minister Kosor signed the EU Accession Treaty in Brussels in December 2011.

The center-left "Kukuriku Coalition," made up of the Social Democratic Party (SDP), Croatian People's Party (HNS), Croatian Peasant Party (HSS), and Istrian Democratic Assembly (IDS), gained a majority of seats in parliamentary elections held December 4, 2011. Prime Minister Zoran Milanovic and his new government took office on December 23, 2011. In a national referendum held January 22, 2012, Croatia took an important step on its path to EU accession with a two-thirds vote in favor of becoming the EU's 28th member. The referendum saw a relatively low turnout, with only 43.51% of the electorate voting. A tentative date of July 2013 has been established for full EU membership.
FOREIGN RELATIONS
Croatia has made great strides on the road to Euro-Atlantic integration. NATO and EU membership have been strategic goals, as Croatia seeks to forge stronger ties with the west. Croatia received an invitation to join NATO at the NATO Summit in Bucharest, Romania in April 2008; it became a full member of the Alliance in April 2009. On December 9, 2011 Croatia signed its EU accession treaty, which Croatian citizens approved by a two-thirds majority in the January 22, 2012 referendum. Upon ratification by the other EU member countries, Croatia is expected to become a full EU member in July 2013.

In May 2003, the United States joined Croatia, Albania, and Macedonia to sign the Adriatic Charter, in which the three NATO aspirants pledged their commitment to NATO values and their cooperative efforts to further their collective NATO aspirations. In 2008, the Adriatic Charter expanded to include two new countries, Bosnia and Herzegovina and Montenegro. Since then, Croatia has become a leader in the Adriatic Charter, including in the development and deployment of a joint Adriatic Charter Police Training Mission to the Afghan National Army Military Police School in Kabul.

Croatia has been a member of the United Nations since 1992, and contributes troops to a number of UN operations, including those in the Golan Heights, Cyprus, Sudan, Liberia, Lebanon, Western Sahara, and Kashmir. In December 2009, Croatia ended a 2-year term as a non-permanent member of the UN Security Council. Croatia also contributes troops to support NATO-led Kosovo Force (KFOR) and since 2003 has participated in the International Stabilization Assistance Force (ISAF) in Afghanistan. The Croatian Parliament in December 2010 approved raising the ceiling on the number of soldiers in Afghanistan to 350. Croatia is a member of the World Trade Organization and the Central European Free Trade Organization.

Croatia is also active in the region, particularly in supporting its neighbors' Euro-Atlantic aspirations. Croatia has made progress on dealing with a number of post-conflict issues. Some of these, such as the status of refugees displaced during the 1991-95 war and determining the fate of missing persons from the war, remain key issues influencing Croatia's relations with its neighbors.
Government
The Croatian Parliament, also known as the Sabor, became a unicameral body after its upper house (Chamber of Counties) was eliminated by constitutional amendment in March 2001. The remaining body, the Chamber of Representatives, consists of 151 members who serve 4-year terms elected by direct vote. The Sabor includes 140 members from 10 geographic districts within Croatia (each district holds 14 seats), as well as eight seats guaranteed to representatives of national minorities (three for the Serb minority, and five for other smaller groups), and three seats for Croatians abroad without fixed residence in Croatia, the large majority of whom reside in Bosnia-Herzegovina. The Sabor holds regular sessions throughout the year, with two periods of recess in the summer and the winter.

The powers of the legislature include enactment and amendment of the constitution, passage of laws, adoption of the state budget, declarations of war and peace, alteration of the boundaries of the republic, and carrying out elections and appointments to office.

Following the death of President Tudjman, the powers of the presidency were curtailed and greater responsibility was vested in Parliament. The president is the head of state and is elected by direct popular vote for a term of 5 years. The president is limited to serving no more than two terms. In addition to being the commander in chief, the president nominates the prime minister-designate based on election results.

The prime minister assumes office following a parliamentary vote of confidence in the new government. The prime minister and government are responsible for proposing legislation and a budget, executing the laws, and guiding the foreign and internal policies of the republic. In addition to Prime Minister Milanovic, the cabinet has 21 ministers as of March 2012, including four deputy prime ministers, the majority of whom are members of the SDP. SDP coalition partners hold five cabinet seats: Principal Deputy Prime Minister and Minister of Economy, Minister of Foreign and European Affairs, Minister of Construction and Physical Planning, Minister of Culture, and Minister of Tourism.

Government Type: presidential/parliamentary democracy
Capital: Zagreb (population: 685,000 est. 2009)
Administrative Divisions: 20 counties (zupanije, zupanija - singular) and 1 city* (grad - singular);
County
Seat
C1
Bjelovar-Bilogora
Bjelovar

Source: About Croatia

C2
Brod-Posavina
Slavonski Brod
C3

City of Zagreb

*
Zagreb
C4
Dubrovnik-Neretva
Dubrovnik
C5
Istria
Pazin
C6
Karlovac
Karlovac
C7
Koprivnica-Križevci
Koprivnica
C8
Krapina-Zagorje
Krapina
C9
Lika-Senj
Gospi?
C10
Me?imurje
 ?akovec
C11
Osijek-Baranja
Osijek
C12
Požega-Slavonia
Požega
C13
Primorje-Gorski Kotar
Rijeka
C14
Šibenik-Knin
Šibenik
C15
Sisak-Moslavina
Sisak
C16
Split-Dalmatia
Split
C17
Varaždin
Varaždin
C18
Virovitica-Podravina
Virovitica
C19
Vukovar-Syrmia
Vukovar
C20
Zadar
Zadar
C21
Zagreb County
Zagreb
Independence Date: 25 June 1991 (from Yugoslavia)
Legal System: civil law system based on Yugoslav civil codes; note - Croatian legislation is changing the former Yugoslav legal model. Croatia has not submitted an Intenational Court of Justice (ICJ) jurisdiction declaration; but accepts International criminal court (ICCt) jurisdiction.
Croatia has a three-tiered judicial system, consisting of the Supreme Court, county courts, and municipal courts. Croatia's Supreme Court is the highest court in the republic. The Supreme Court assures the uniform application of laws. Members of the high court are appointed by the National Judicial Council, a body of 11 members, and justices on the Supreme Court are appointed for life. The court's hearings are generally open to the public.

The Constitutional Court is a body of 13 judges appointed by Parliament for an 8-year term. The Constitutional Court works to assure the conformity of all laws to the constitution.
International Environmental Agreements
Croatia is party to international agreements on: Air Pollution, Air Pollution-Nitrogen Oxides, Air Pollution-Persistent Organic Pollutants, Air Pollution-Sulfur 94, Air Pollution-Volatile Organic Compounds, Biodiversity, Climate Change, Climate Change-Kyoto Protocol, Desertification, Endangered Species, Hazardous Wastes, Law of the Sea, Marine Dumping, Ozone Layer Protection, Ship Pollution, Wetlands, and Whaling.
Water
Total Renewable Water Resources: 105.5 cu km (1998)
Freshwater Withdrawal (domestic, industrial, agricultural):
Agriculture
Agricultural products: wheat, corn, sugar beets, sunflower seed, barley, alfalfa, clover, olives, citrus, grapes, soybeans, potatoes; livestock, dairy products
Irrigated Land: 310 sq km (2008)
Resources
Natural Resources: oil, some coal, bauxite, low-grade iron ore, calcium, gypsum, natural asphalt, silica, mica, clays, salt, hydropower
Land Use:
arable land: 25.82%
permanent crops: 2.19%
other: 71.99% (2005)
Economy
Following World War II, rapid industrialization and diversification occurred within Croatia. Decentralization came in 1965, allowing growth of certain sectors, particularly the tourist industry. Profits from Croatian industry were used to develop poorer regions in the former Yugoslavia. This, coupled with austerity programs and hyperinflation in the 1980s, contributed to discontent in Croatia.

Privatization and the drive toward a market economy had barely begun under the new Croatian Government when war broke out in 1991. As a result of the war, the economic infrastructure sustained massive damage, particularly the revenue-rich tourism industry. From 1989 to 1993, GDP fell 40.5%. With the end of the war in 1995, tourism and Croatia's economy recovered moderately. However, corruption, cronyism, and a general lack of transparency stymied meaningful economic reform, as well as much-needed foreign investment.

Croatia's economy grew strongly in the 2000s, stimulated by a credit boom led by newly privatized and foreign-capitalized banks, some capital investment (most importantly road construction), further growth in tourism, and gains by small- and medium-sized private enterprises. One downside to these steadily improving trends was a strong growth in Croatia's stock of foreign debt, which by 2010 had reached almost 100% of GDP.

Despite the gains, substantial challenges remain. Croatia's economy was hit hard by the global financial crisis, and has recovered more slowly than many of its neighbors. The country experienced a drop from 2.4% GDP growth in 2008 to a 5.8% contraction in 2009. GDP fell a further 1.2% in 2010 (about $62.25 billion), while 2011 saw approximately 0.7% growth. Official unemployment is 17.9%. Croatia's external imbalances and high foreign debt present long-term risks to its economic well-being, as continued access to foreign credit may be severely limited. An inefficient bureaucracy, relatively high labor costs, and lack of transparency in taxes, fees, and the public tender process have all led to a generally unfavorable climate for foreign investment. The new government intends to eliminate certain non-tax fees on business, consolidate overlapping government agencies, and identify administrative barriers to foreign investment. Improvements to Croatia's judicial system are not yet fully achieved, another hindrance to economic development.

The privatization process, begun in the 1990s, has been unsteady, largely as a result of public mistrust engendered when many state-owned companies were sold to the politically well-connected at below-market prices. The government sold three large metals plants in early 2007, but the Croatian state still controls a significant part of the economy, with government spending accounting for as much as 50% of GDP. Some large, state-owned industries continue to rely on government subsidies, crowding out investment in education and technology needed to ensure the economy's long-term competitiveness. The government is trying to privatize several state-owned shipyards. As of October 2011, there were signs of progress in this area, but the process had not yet been finalized.
Nevertheless, difficult problems still remain, including a stubbornly high unemployment rate, a growing trade deficit and uneven regional development. The state retains a large role in the economy, as privatization efforts often meet stiff public and political resistance. While macroeconomic stabilization has largely been achieved, structural reforms lag because of deep resistance on the part of the public and lack of strong support from politicians.
The European Union accession process should accelerate fiscal and structural reform.
While long term growth prospects for the economy remain strong, Croatia will face significant pressure as a result of the global financial crisis.
Croatia's high foreign debt, anemic export sector, strained state budget, and over-reliance on tourism revenue will result in higher risk to economic stability over the medium term.
GDP: (Purchasing Power Parity): $80.89 billion (2011 est.)
GDP: (Official Exchange Rate): $64.2 billion (2011 est.)
GDP- per capita (PPP): $18,300 (2011 est.)
GDP- composition by sector:
agriculture: 5.5%
industry: 24.4%
services: 70.1% (2011 est.)
Industries: chemicals and plastics, machine tools, fabricated metal, electronics, pig iron and rolled steel products, aluminum, paper, wood products, construction materials, textiles, shipbuilding, petroleum and petroleum refining, food and beverages, tourism
Currency: Kuna (HRK)