Predator and Prey (main)
From The Encyclopedia of Earth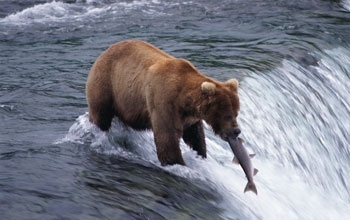 Predator-prey relationships (that is, neither competitive nor mutualistic relationships) have been seen as providing the necessary stability for almost infinite numbers of species to exist in ecosystems. Such relationships do so by keeping the size of species populations in check at supportable levels.
Stefano Allesina and Si Tang, researchers at the University of Chicago, have studied such relationships. Their recent investigations have noted that, "When prey are high, predators increase and reduce the number of prey by predation. When predators are low, prey decrease and thus reduce the number of predators by starvation. These predator/prey relationships thereby promote stability in ecosystems and enable them to maintain large numbers of species.
By contrast, mutualistic relationships may reinforce the growth of large populations and competitive relationships may depress population numbers to the point of ecological instability."
Featured Article

Tamarix control (Predator and Prey)

Tamarix control is a significant invasive species issue in the western USA, especially in the American southwest. The woody plant genus Tamarix, also , also known by the...

More »
Featured Article

Arnoux's beaked whale

Arnoux's beaked whale (scientific name: Berardius arnuxii ) is one of 21 species of beaked whales (Hyperoodontidae or Ziphiidae), medium-sized whales with distinctive, long and...

More »
Featured News Article

Lionfish Spread Unprecedented

Invasive Marine Fish May Stress Reefs The rapid spread of lionfishes along the U.S. eastern seaboard, Gulf of Mexico, and Caribbean is the first documented case of a...

More »
Featured Article

Spinner dolphin (Predator and Prey)

The Spinner dolphin (Stenella longirostris), a marine mammal in the family of oceanic dolphins, gets itsname from the spinning behavior it shows when it leaps out of...

More »
Featured Article

Cheetah (Predator and Prey)

The Cheetah, Acinonyx jubatus, isa vulnerablespecies withinthe cat family. While the fastest land animal and an adept hunter, this felid is not agressive...

More »
Featured Article

Imported Red Fire Ant Enemies

?Main Image: A phorid fly (left), Pseudacteon cultellatus, about 1 mm long, and a red imported fire ant (right), Solenopsis invicta, about 3 mm long. The fly can lay eggs...

More »
Featured Article

Drosera rotundifolia (Predator and Prey)

Drosera rotundifoliais an insectivorous plant that occurs in marshes, bogs and fens in a circumboreal distribution; common names for this species are Roundleaf Sundew or...

More »
Featured Article

Carnivore (Predator and Prey)

Introduction The term carnivore is used in a variety of ways. The general ecological definition of a carnivore is an organism that feeds on animals, as opposed to feeding...

More »
</div>